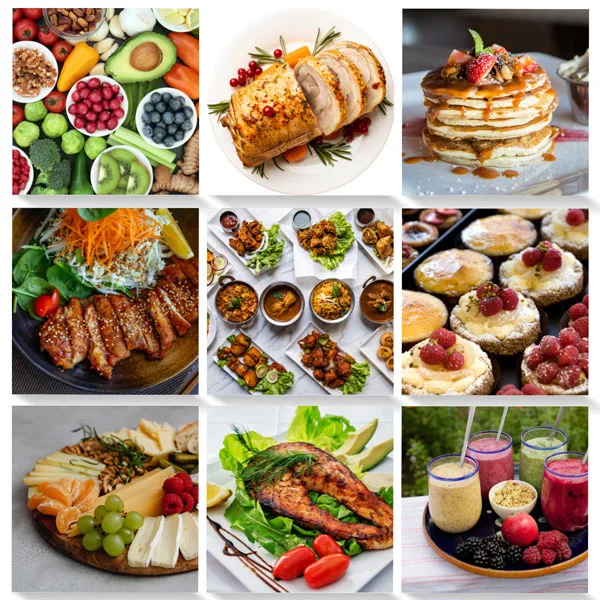 First establish whether the venue you are using insists on doing the catering itself or is happy for you to bring in your own food and drink – or allow an outside caterer to come in. And enquire about the venue's allergy policy – they may ban certain types of food such as nuts from their premises.
Make sure all prices you are quoted include VAT so you are not surprised by the final bill.
Think about whether you want your guests sitting down to a full blown meal (breakfast, lunch or dinner), or whether you prefer canapes, a finger buffet (hot or cold), afternoon tea, a sandwich lunch, cheese boards with fruit – and remember to order your teas and coffees, water and juices too most venues will be able to offer a variety of catering options for your event.
If you are looking to put on a bar for your event, make sure of the licensing agreement that your venue holds – often they will provide a bar as a service but don't expect to receive the profits from the bar – these will be retained by the venue.
If you are using outside caterers, try and get recommendations for companies to use – you might also like to do something different and book a food truck or two for summer events – street food is popular all over the world and can add that something special to your event. And check out the online reviews – these are a valuable way to find reputable companies.
If you are unsure, schedule a tasting of the food that will be provided so you are happy with the food served on the day. Most venues will be flexible with their menu offering.
Allocate your budget and then get quotes from at least three different companies as prices can vary widely – don't worry about approaching several companies, they will all be used to giving quotes and know that they may have competition – if you find that your favourite company is more expensive than you like, negotiate – if you don't ask, you don't get! You are within your rights to ask for their food hygiene certificates too to help you make your choice.
Take note of how quickly the company responds to your query – if they don't get back to you within a couple of days, they may be equally tardy in the build up to your event – you need responsive people on your side.
Get your final numbers for the event as soon as possible as the catering team will need numbers at least a week before the day – they will need to order in the correct amount of food to avoid wastage – and make sure they provide enough. This may seem obvious, but you don't want to end up with not enough food for everyone – and take advice from the catering company/venue as they will know how much food needs to be ordered – they have the expertise!
Remember to ask if anyone has an allergy or food intolerance and make sure you let the venue know exactly what they are allergic to or intolerant of – most venues will be easily able to accommodate dietary requirements and be able to adapt a menu accordingly or supply specific dishes for individuals.
How we can help
We can take the strain out of your catering needs, by providing our own inhouse catering and we can cater for most situations – from afternoon teas to full blown dinners. Our expert staff can advise you on the most appropriate catering package for your event and are flexible with their menus. We can also provide a fully licensed bar or you can choose from our wine list. And we can cater for your guests' specific dietary requirements.For more information, simply email us at [email protected] or call 01749 834230.